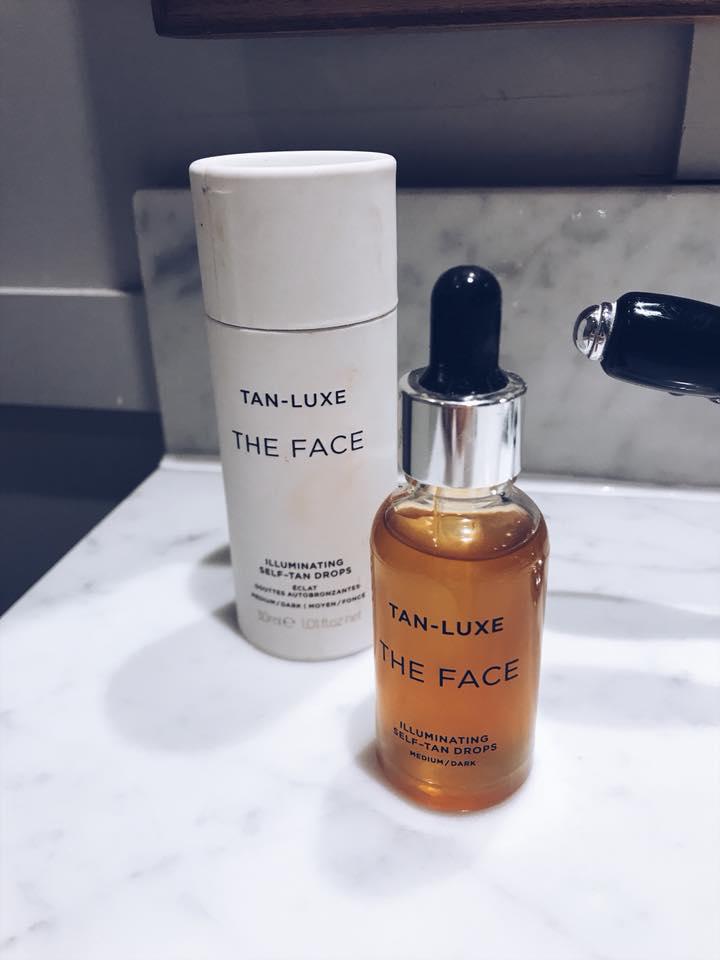 Hello lovelies! It's only my first beauty review of 2018 and ooooh it's a goodie. *applauds* I have a fabulous tried and tested facial tan for you if, like me, you're a pale Patricia right now. Ok, this isn't a new beauty launch by any means, but it is new to me and it's one of the most believable fake tans I've tried for the face. Pop it on before bed and wake up a glowier you. Get excited. 
Just before Christmas, I received a wonderful beauty recommendation from the lovely Chelsea who does the incredible blow dries at the Show Beauty blow dry bar in Harvey Nichols. She has mermaid hair, supermodel skin and the most stunning natural lashes I've ever seen so I pretty much spent my entire hair appointment grilling her about what she had on her skin/hair/nails. I paid for a blow dry but what I actually got was beach waves with a side of very sound beauty/life advice so I 100% recommend popping by if you're having a bad hair day.
Three proseccos in and I find myself suddenly in Space NK (which is never a good idea for the bank balance) hunting down the facial tanner she was raving about. Great news. They had it. Bad news. It's £35. Ouchie. I fleetingly thought about the last time I bought something on an impulse after seeing it on someone else (a dress from H and M that made me look like a chipolata) and I was almost sure I was setting myself up for disappointment. I'd also splashed out on the world's most expensive brow pencil (Tom Ford in case you were wondering) three minutes earlier so I was extra hesitant to dig out my card. However, it turns out, this miracle product is basically a week on the beach in a bottle and in my opinion essential to life (and waaaaaay cheaper than a holiday). I ummed and ahhhhed but we both knew I was going to buy it and I did the whole well if you want to blog about beauty, you have to try new products once in a while as contrary to popular belief, us bloggers don't get every beauty product on our wish list land in our lap and readers may not want to know about the same old beauty products I have on rotation.
So. Application. You mix it with your moisturiser before you go to bed and wake up looking like you've enjoyed a small jaunt in the Bahamas. I mix it in with my Vichy moisturiser and apply it to my face and neck. It's VERY important to do the neck especially if you opt for the medium to dark shade. I went for the medium to dark shade naturally. I can't wait to use this when I go away, it will be perfect for those no makeup days on the beach. Another thing, unlike those tan sheet masks that are £10 for one use, this stuff lasts ages, you only need a few drops. I've been using it for 4 weeks and I've barely made a dint in it. It also contains ingredients that your skin will LOVE. Aloe Vera, Vitamin E and Raspberry Seed Oil so it doesn't just make your skin tone change it gives you a little glow earning its illuminating tanning drops name.
The end result? I've always been kind of wary when it comes to face tanners, I mean if it goes wrong, there's no hiding it but this one is super simple to apply. Oh and of course, the scent. Well, I wouldn't say it's entirely odourless but it's barely noticeable. My other half detected a hint of fake tan but he was like oh you've fake tanned not like UGH you've tanned. I've tried tans that have actually woken me up in the middle of the night with a scent so strong you may feel like you are napping in the biscuit aisle so you can trust me when i say, it's unoffensive.
Need it in your life? You can find it here. If only there was a body version. Ooh there is! Review coming soon!