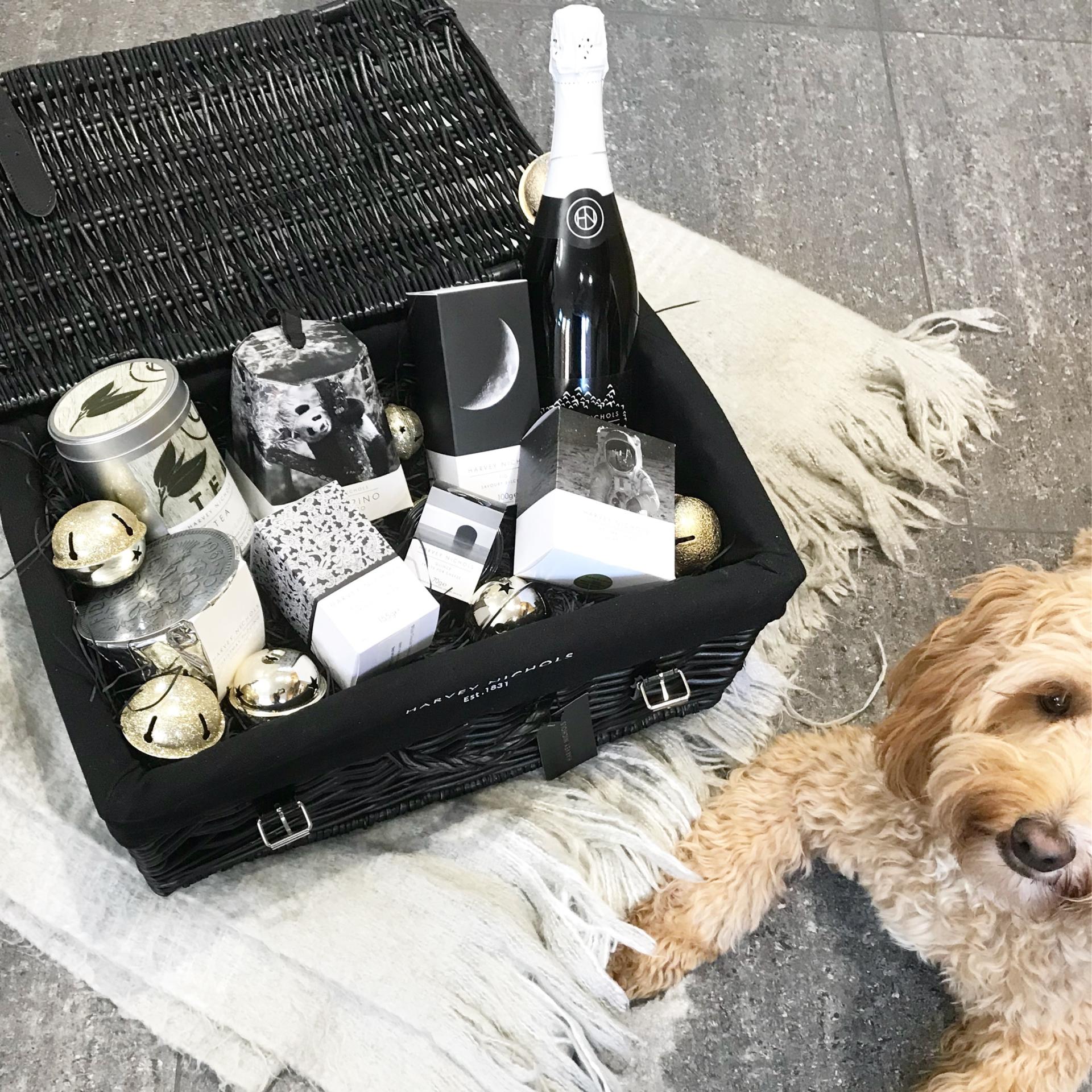 Oh hello lovely readers, it's all a little bit festive on the blog today but now that the Halloween weekend is officially over it's totally acceptable to say the C word yes? Those of you who know me will know that not much gets me as excited as a hamper, so when the Season's Eatings Harvey Nichols Christmas hamper tumbled onto my doorstep in all its black wicker glory an actual squeal left my lips. I mean, just LOOK at it. Yes, Harvey Nichols have knocked it out of the park with their Christmas hamper collection. Settle in and let's have a look inside the Season's Eatings hamper. HANDS OFF THE FLORENTINES.
Christmas is my absolute favourite time of year because people pop in a lot and as someone who works from home, nothing breaks up the day better than a coffee mulled wine with friends. It's nice to have lots of Christmassy bits and bobs in the house to give to friends and family and nothing says festive quite like Christmas Tea and fig biscuits. 
What's in the hamper?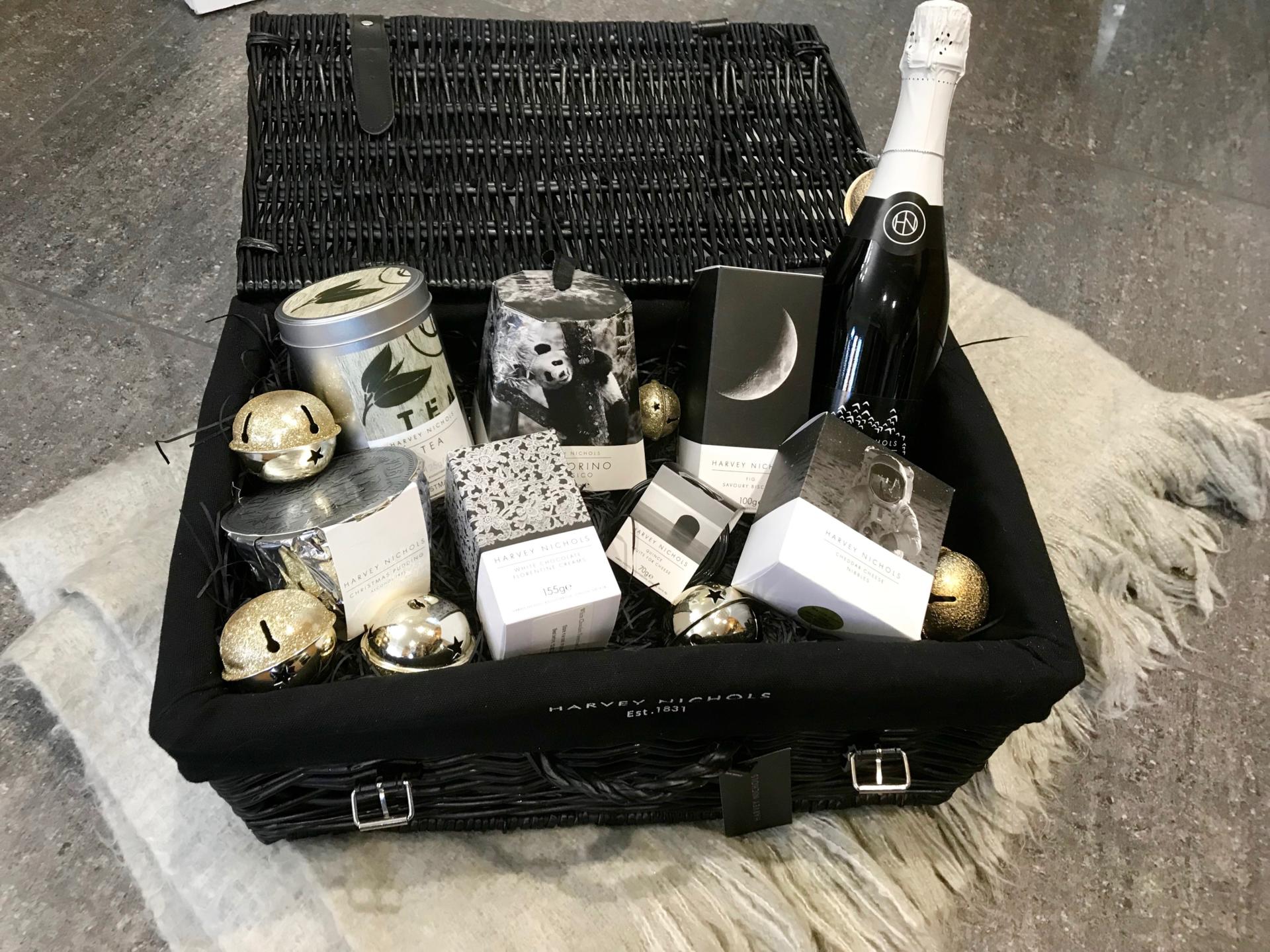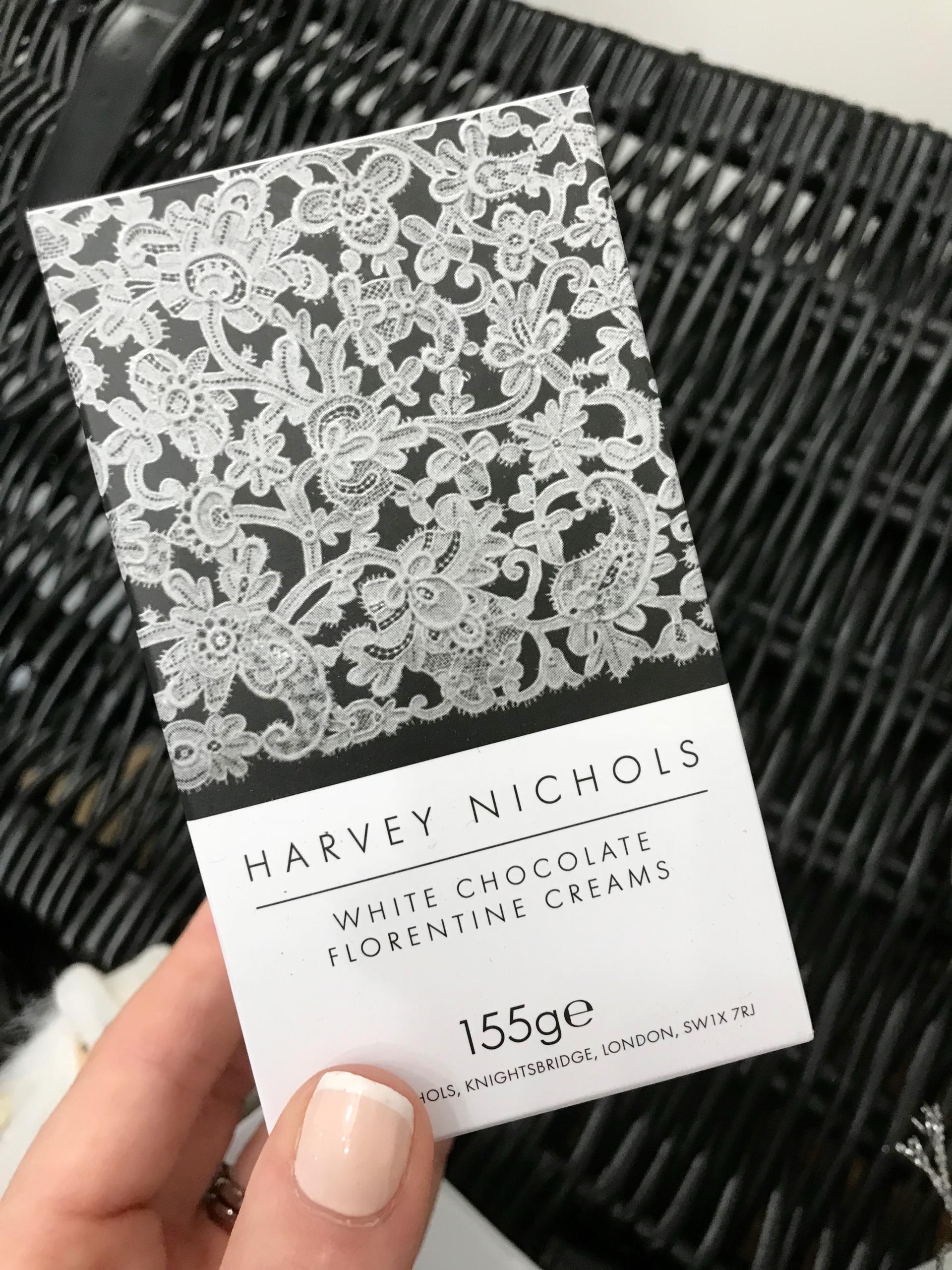 There are so many amazing things in this hamper I don't quite know where to start but let me tell you I did not need to find out just how addictive white chocolate florentines were a week before I have to wear a bikini. I am planning to save this hamper for December but in the name of research, I decided to sample a florentine (or 10). I can confirm they are like heaven in your mouth.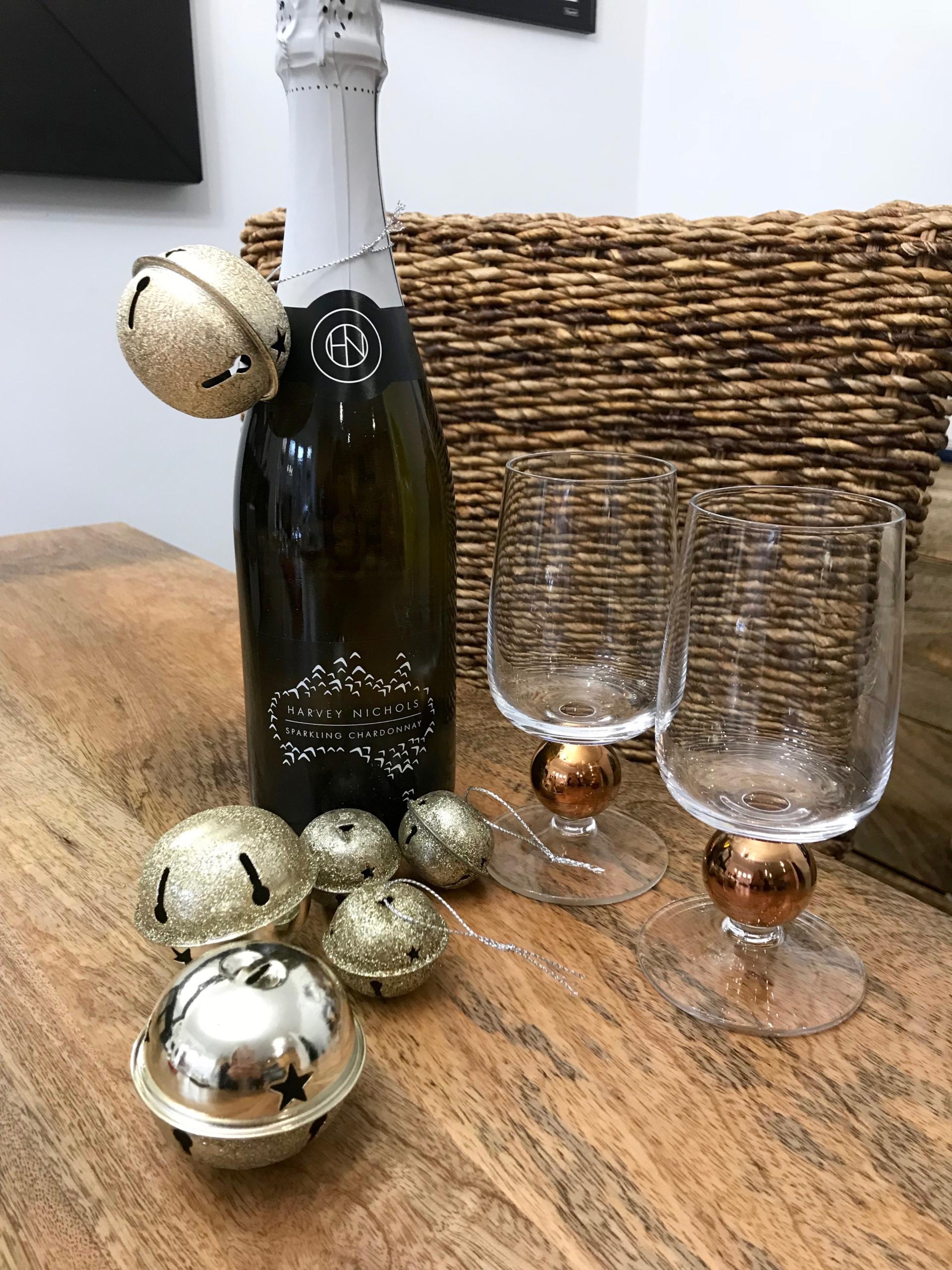 Can we just take a minute to give my new rose gold LSA wine glasses a little nod of appreciation? I was recently sent them by the wonderful team at Amara and they are just beyond beautiful. I've created an obligatory wine hour in our house now from 5-6pm as an excuse to use them.
This hamper is alcohol free so it's a great gift if your host is expecting or you're spending Christmas day with someone who is. Who even knew that alcohol free sparkling chardonnay existed? Marvelous when you can't have alcohol but still crave a little pop fizz clink at Christmas.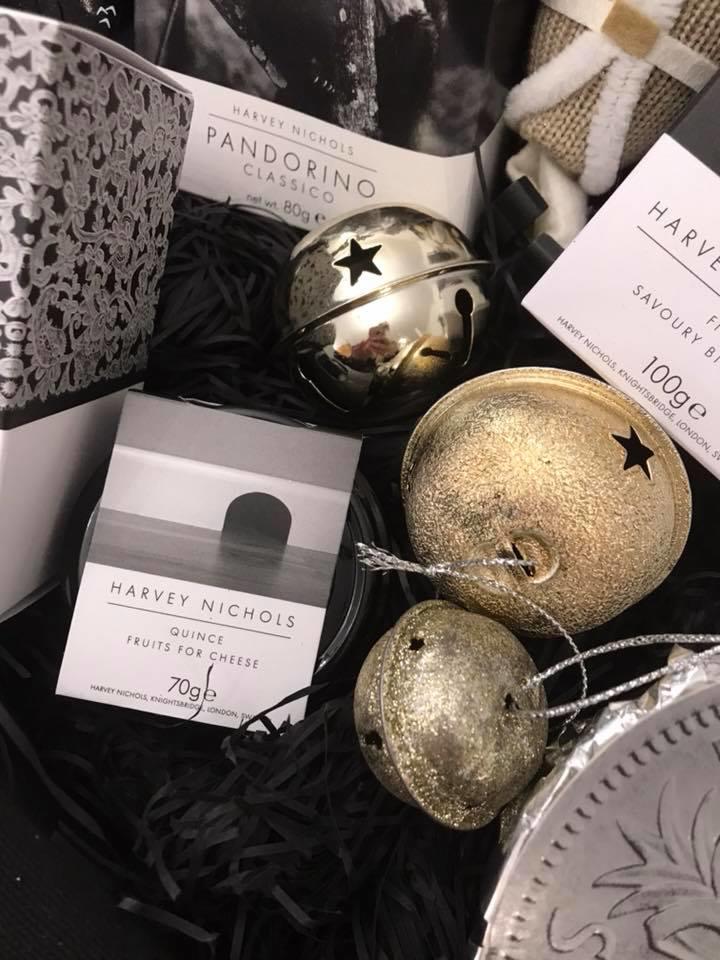 If you like nibbles, you'll love this hamper. The Season's Eatings hamper is the perfect balance of sweet and savoury. Cheddar nibbles, chocolate coins, salted caramel truffles and quince fruits are just a few of the highlights.
Hampers come in handy for lots of occasions.
The ultimate girly night in: get your favourite people in one room and have a feast. Elf, Christmas pudding and white florentine creams is my idea of heaven. The Sweet Life hamper was made for festive nights in. Rose champagne, truffles, Christmas cake and pink clay sheet masks. SO. MUCH.YES.
Date night: Hampers are great for date nights. The contents of the season's eatings hamper would make the best floor picnic in all the land. I personally love the Christmas morning hamper also. It's basically breakfast in bed with bubbles and biscuits and anything you could ever want to put on toast. Just add someone you love. Can you say couple goals?
Gifts for the host: Going to your parents' house this Christmas? Celebrating with friends on NYE? This is one way to spoil your host.
Picnic in the park: Get bundled up and head out into the cold and let the picnic of dreams commence.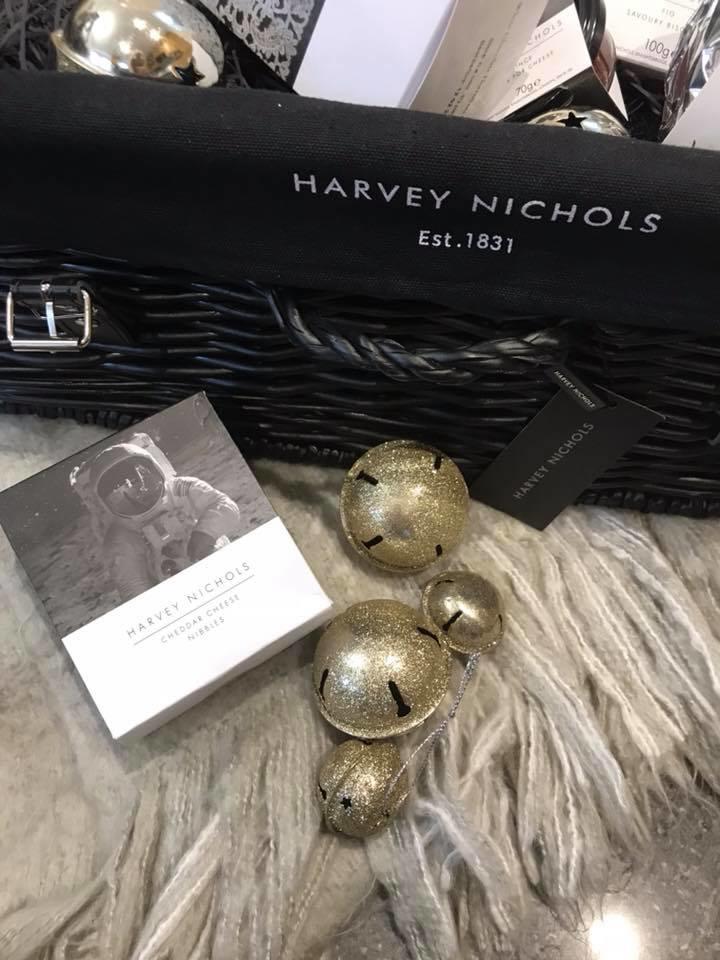 The Season's Eatings hamper is £100. Fancy something a little more boozy? The Fancy Trimmings hamper has all of those all important Christmas condiments along with a helping of mulled wine and prosecco. You know, the essentials. Something extra fancy? The Crowd Pleaser is basically christmas flavoured happiness in a hamper. Not looking to spend so much? There's some pretty fancy options starting at just £60.
Are you a fan of a Christmas hamper?