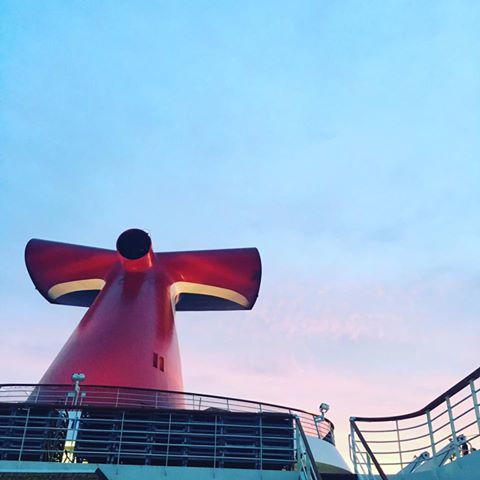 WARNING: this post may cause serious wanderlust and may result in you renting out your house and carrying on life as you know it on a cruise ship. If I didn't have a dog, I'd be writing this from the tenth deck of a Carnival ship. 
Yes, I'm back from my very long string of holidays and you can all breathe a sigh of relief that my Instagram pictures will be a lot more boring from now on.
Fun fact of the day.
I went on my first cruise (as an adult) and it was nothing like anything I ever expected. So, I thought I'd let you all in on all of the magic that is cruise life. What to do if you get seasick, what to wear and more importantly how to have the most fun you've probably ever had in your life.
Here are all of your cruise questions answered.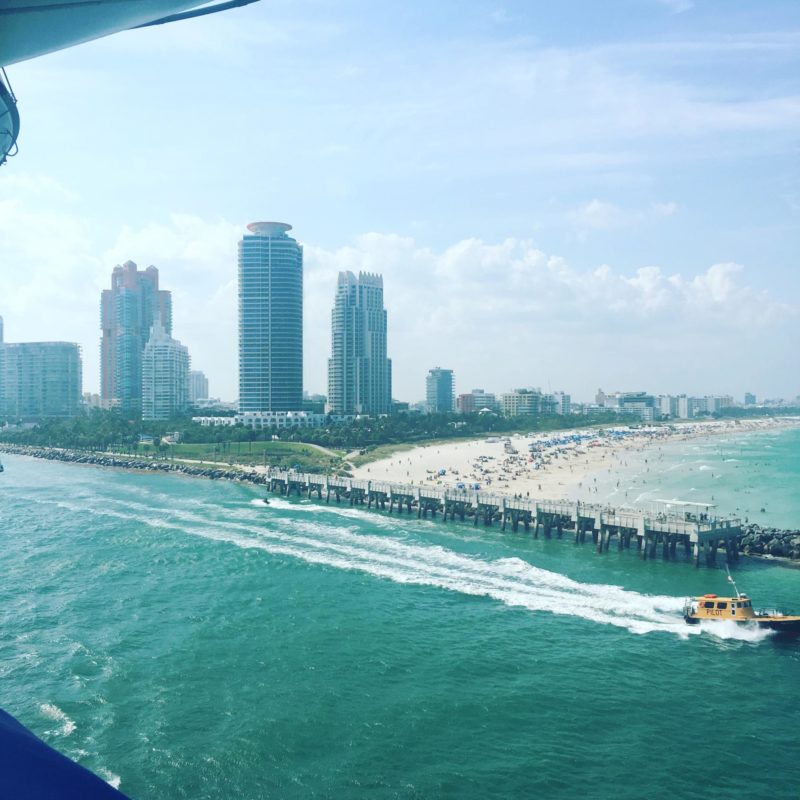 Will it take 567 years to get on? 
No as long as you aren't early. This is a super easy one for me (see this post for more details) but if you like to be prepared you may think that normal rules apply and being early will put you at an advantage but cruise life is like no other reality so be there on time. Being early won't give you the luxury of skipping queues or getting a selfie with the Captain so just turn up at your appointed time and breeze on through.
What About Wifi?
Forget about Google. Forget the internet ever existed. If like me, you need Google to get around in daily life, you will have to prepare to leave your love for it on land. Don't expect to upload Instagram pictures at the speed of light. I paid for access to social channels while on the ship (because if you didn't Instagram the cruise did it ever really even happen?) and I even upgraded one day to use Google only to realise that it took an hour to search for anything.
Apparently wifi isn't the strongest at sea. WEIRD.
What About Room Snacks?
You can take things to your cabin. After sneaking a bowl of mexican deliciousness down to our cabin disguised in a heap of beach kaftans and sun hats after putting together a plan that rivalled most military operations it was interesting to learn that no one would bink an eye should you wish to take your food to go. Or drinks for that matter. Go on. Live your best life.
What About my Hair?
Understatement of the year. It's humid in the Bahamas. Take a hairdryer. Your cabin is unlike any room you will have ever stayed in previously. Do not expect a hairdryer (or in some cases even a window for that matter) and if you get on board without one, prepare yourself for a long wait. Yes, you can call your cabin steward but prepare for him to service the other 3000 guests on board before he gets to you and your wet hair.
Will my Clothes Still Fit When it's Over?
Don't want to come back five pounds heavier? Take the stairs. My App told me we did 57,000 steps while on the ship so leave the lifts and get walking. Also, there's a running track on some of the ships if you are that way inclined. I actually lost weight despite eating pizza every day and drinking 4578 Bahama Mamas. Carnival cruise ships are designed with the sole mission of having fun. Laughing burns calories right?
Will I get Seasick? 
Possibly. It will depend usually on the size of the ship (the bigger the ship the less you will feel it swaying) and how rough the sea is. If you do feel a little seasick, you can pick up some tablets from guest services.
Is it Scary?
I was scared of so many things before getting on a cruise. My worries included:
Accidentally napping and it sailing off without us
Falling overboard
Pirates (not even joking)
Cabin fever
Sinking
Not being able to get off
All of these were in fact unfounded.
Will I be Bored?
Yes if you are not a fan of drinking, gambling, art, eating pizza, dancing, shows, chatting, eating ice cream, live music, nightclubs, epic sunrises, even more epic sunsets, deck parties, bingo, island hopping, sunbathing and socializing.
What do I Wear?
Anything you want. Literally anything. I saw people in ball gowns, ass cheek bearing playsuits, pyjamas and not even sexy ones, like actual checked pyjama bottoms and slippers with claws on. Thong swimsuits, sparkly playsuits (yep, that was me), mini dresses, maxi dresses, jeans, shorts, jumpsuits and a man in a full pink satin suit.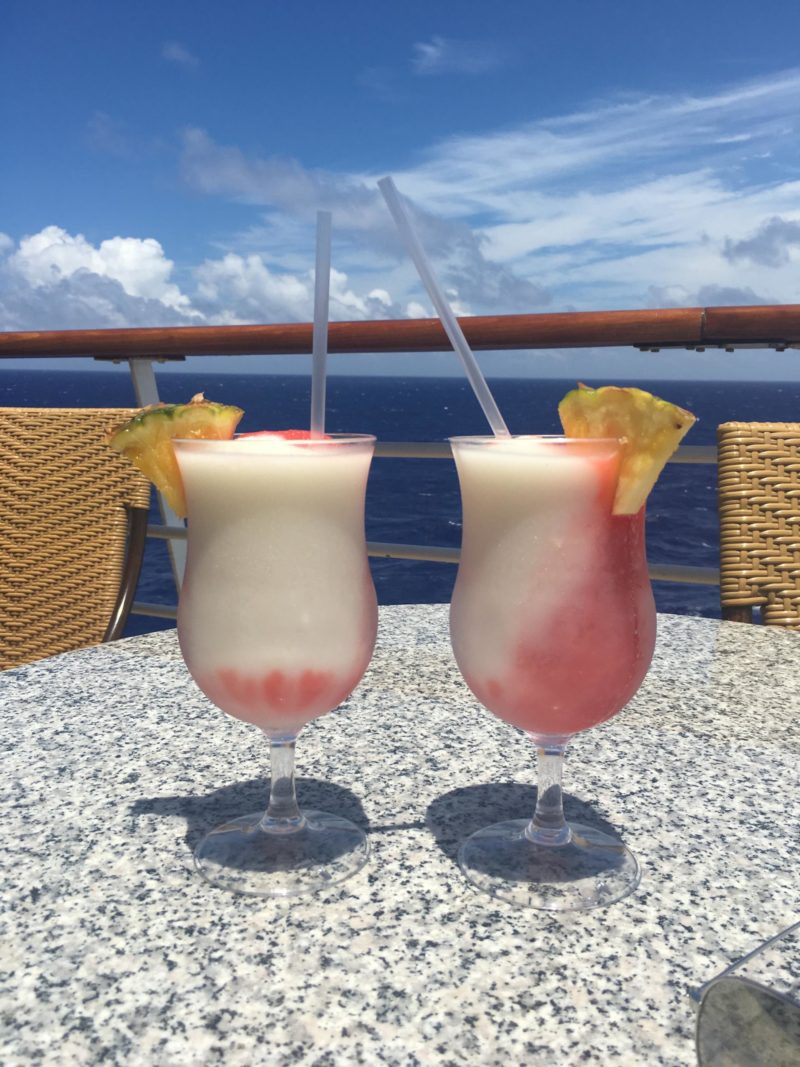 Reasons to Cruise with Carnival;
Because if you don't have 8 million pounds in the bank and unlimited airmiles, the Bahamas isn't the cheapest of places to get to especially from the UK. Hop on a Carnival ship and you can island hop like the best of them for four days at the price of a really fancy room in Miami.
Unlimited pizza. Need I continue?
Everything you own is always ten minutes away. Heeeeeeey there unlimited outfit changes.
People will give you the opportunity to try things you never dreamed of. Like playing the steel drums.
You'll make memories. Going on a cruise is a bit like your university years or starring in your favourite American teen movie all rolled into one week. You'll be pushed into ridiculous situations that you would never do on land and you'll wake up safe in the knowledge that you've had the maximum amount of fun that could possibly have been had. EVER.
A cocktail is always five minutes away from your hand at any given time.
Drinking is acceptable at any time of day. It truly is 5pm somewhere.
Because going to bed is optional and star gazing encouraged.
Because where else can you go where you can take part in your very own game show, sing karaoke, watch restaurant staff dance to gangnam style and bid on fine art in the space of an hour?
You'll meet incredible people. You'll meet people who have left their cares (and every inhibition) on land. You'll meet people who met each other on cruises. You'll meet adorable mother/daughter cruise goers and couples from far flung places with accents you can't even begin to decipher. You'll meet brave people who have managed to find and board a cruise alone happily creating their own fun and you'll meet people who are just like you. You meet groups of people who are lifelong friends and if you are lucky people that will become yours.
Endless napping potential.
Because you quite simply haven't experienced a sunset unless you experiences a 360 sunset.
Because there's towel animals and classes that show you how to make towel animals.
Endless opportunities to show off your party tricks.
Four words. PICK AND MIX SHOP.
Two words: THE CONGA. There one going on at all times. Join it.
Because life is better at sea.