So I'm having one of those why doesn't my office look like the ones on Pinterest days. *sigh* I've been working from home for over two years now and I'm finally coming to terms with the fact that my office space is no where near where I want it to be. So, I thought I'd do a wish list style post to help me create my dream workspace. Now if you read my blog regularly, you will know that I love a home decor wish list, I actually wrote one here when I moved in to my house three years ago but it mostly featured decorative pieces that would make our rooms feel homely. Read on to discover my dream office.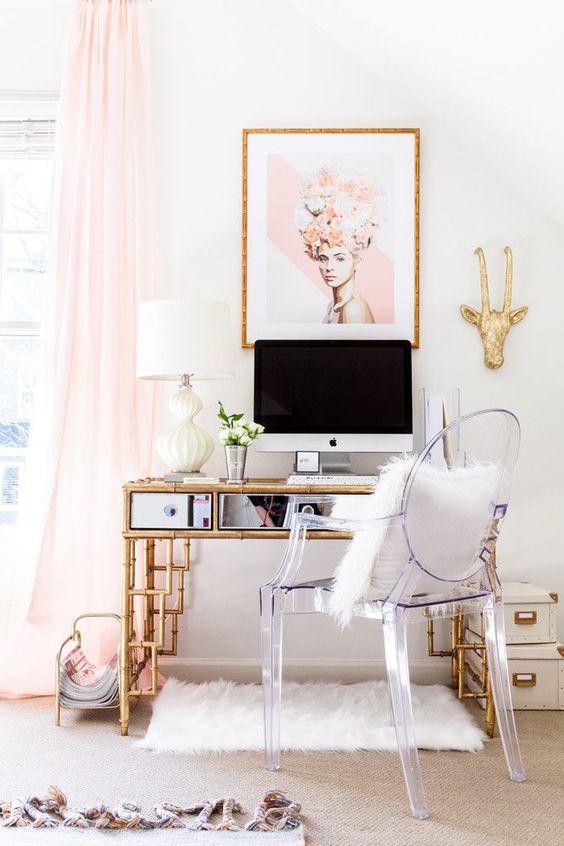 White White White
Ok so one of the simplest ways to transform an office space is to create a blank canvas by painting your walls white. My office is in dire need of a fresh coat of paint and white always brightens up a room making any flashes of colour you incorporate using accessories really pop. My office doesn't get as much natural light as I'd like so white walls will make it feel automatically lighter and brighter. When it comes to colour schemes, I'm totally torn between a monochrome theme and a white and rose gold theme but I don't want to make it overly feminine.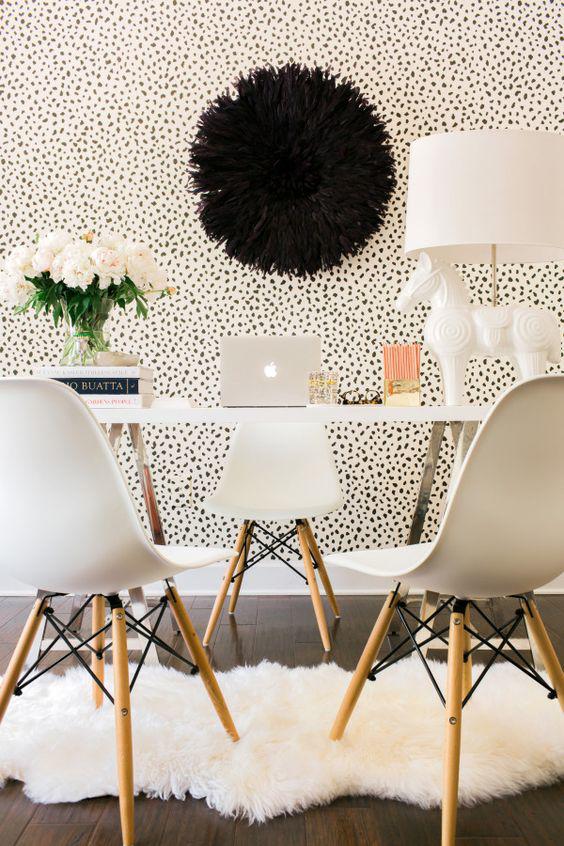 The Desk
The desk I have at the moment is a big and bulky one from Ikea as we originally bought it for my other half when he needed to work from home. It needed to have enough space to accommodate printers and other essentials so this would be my first choice when it comes to upgrading my office furniture.This white desk is really simple and understated and it is exactly what I'm looking for *pins to board*
Lighting
I think lighting is an area that can really add personality to a room. I'd love a really cool desk lamp and I've found the perfect design online at Lampcommerce. Their Artemide lighting collection also boasts a range of incredible wall lamp options that are ideal of you want to save space like I do. I've been thinking more and more about getting into vlogging and I often toy with the idea of investing in some high-tech LED light rings to up my game for filming and photographing products. This LED table light is perfection and would fit in with my monochrome theme nicely.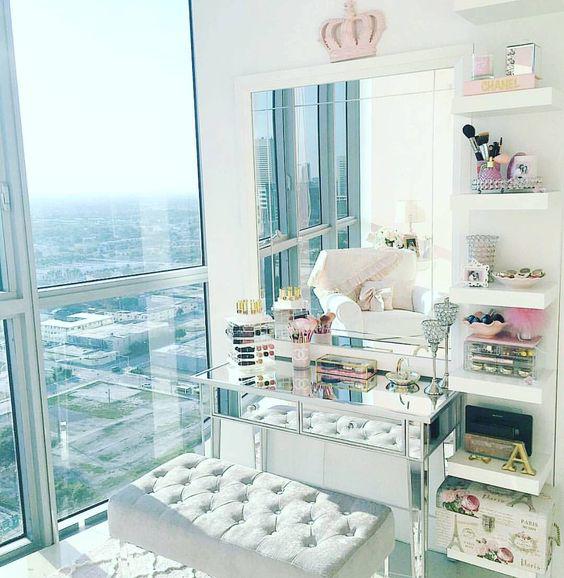 Storage
This is an area in which my home office is seriously lacking. I would love to experiment with shelving and create a super glam storage area as right now everything is sort of everywhere with no sense of organisation. I've often thought of abandoning the room my home office is in currently and creating cute corner like this one to work in.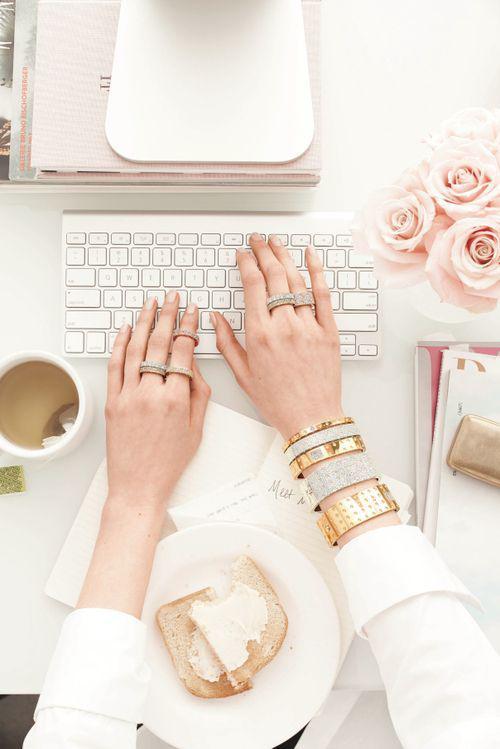 Tech
As a freelance writer, I need nothing but my trusty Macbook air but as a blogger, I require a whole host of tech that allows me to photograph products, edit photos and create compelling content including cameras, lenses, blog post props and tripods etc. Therefore, I want to create a space that reflects both sides of my job with areas designed for photographing products, makeup storage as well as places to showcase my favourite books. The latest addition to my workspace is a Imac which I've only just got the hang of using but I now couldn't live without.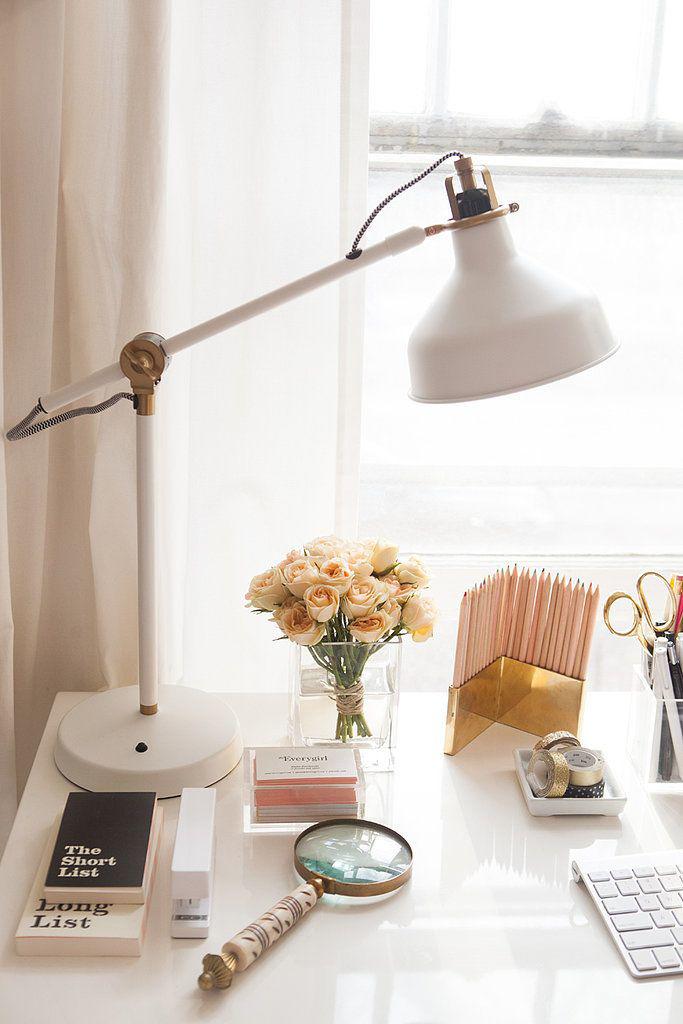 Accessories
Every desk needs a personal touch whether this may be a signature scent in the form of a candle or a vase filled with your favourite flowers. When it comes to candles, I think the Diptyque candles are a bit of a cliche but they do make a mighty pretty addition to your desk. Personally I love the white and rose gold colour theme so Kate Spade stationery is my ultimate go to brand. They have dreamy notebooks and just look at this business card holder. I also really like the idea of some well places artwork as bare walls do nothing for my creative side.
My office space is currently under construction but I can't wait to post about my shiny new office. Watch this (work) space!