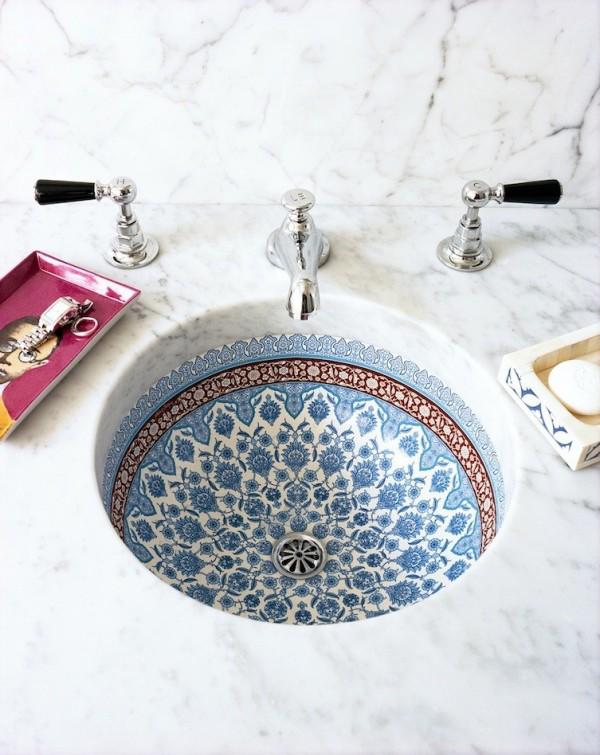 Image source (here). 
I seem to be getting bathroom envy more and more these days. From my fancy hotel bathroom in Morocco (watch my Vlog for a tour) to my Sister in Law's brand new wet room, it's safe to say I've fallen out of love with my own en-suite. However, that being said, while I'd love to transform my bathroom into a Moroccan inspired wet room with it's very own steam shower, the chances are it's going to be a lot less authentic Moroccan mosaics and a lot more Matalan. You know how it is. You start with the best intentions and then you end up selling it all on Ebay. Here are four trend-inspired changes I'd like to make but probably never will.
Moroccan Inspired Details
After my trip to Morocco last month, I've been dreaming about elaborate tiles and dreamy gold lanterns and I've been noticing more Moroccan inspired pieces in the shops lately. I saw this incredible porcelain patterned sink design on Pinterest which was in a hotel bathroom but would work equally well in the home and I haven't stopped thinking about it since.
Expectation: A fabulous Moroccan Inspired built in basin complete with blue and white mosaic details and rose gold taps.
Reality: The chances of me replacing my plain white sink with this Moroccan design is slim so I'll just settle for a gold guilded mirror (I saw the perfect one at Dunelm last week) and some White Company blue and white patterned towels.
Beautiful Blinds 
I have a confession to make. I've lived in my house for almost four years and I still don't have blinds in my kitchen, hallway or spare room. So you can guarentee that my bathroom windows are unfurnished too but this is something I plan to change very soon. Blinds have been on my to do list for years and this year it's something I'm going to tick off. Now, I've never thought of putting blinds in my bathroom before as getting them up in the spare room has been my primary concern but recently I've been seeing them pop up more and more on Pinterest of late and now I want pretty white wooden blinds in my bathroom. I've found the perfect Pinterest-worthy design at Direct Blinds and the good news is they aren't super pricey which means more money to spend on elaborate Moroccan tiles. Pinterest makes me want too many things.
Expectation: Pristine white wooden blinds.
Reality: Blinds that used to be white before you remembered how much you love fake tan, make up and other orange-esque things.
Superior Storage
One thing I love about hotel bathrooms is how minimalistic they are. It's amazing how chic a bathroom can look when you haven't got 4578 bottles of shower gel and shampoo cluttering up every surface.
Expectation: A built in cabinet with those posh doors that don't slam shut but slowly close without a sound.
Reality: ALL the wicker baskets.
Fancy Toiletries 
The simplest and most affordable way to add a bit of luxury to your bathroom suite is to stock up on a few deliciously scented body washes and soaps. I love the fancy toiletries you get in hotels, (our suite in Morocco had bath salts in stunning little pots with tiny spoons) and my new obsession is buying magnesium flakes, epsom salts and himalayan salts and decanting them into cute little storage posts.
Expectation: Jo Malone EVERYTHING.
Reality: Radox
I just want to say, it's OK if your bathroom doesn't look like it belongs on Instagram. Because, well, who has time for this?