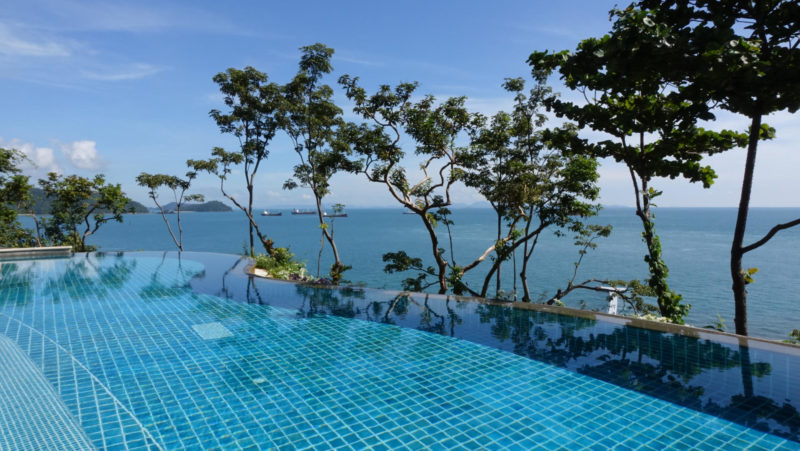 What is your ultimate summer holiday? You know, the one that you always think of when asked where in the world you would go if you had no time commitments, no budget restraints and no holiday day restrictions and take all your friends with you. For me, it's a villa somewhere luxurious. I've already spotted my dream hideaway in Thailand (Koh Samui Vacation Rentals has the most incredible villa with it's very own chef and wrap around infinity pool). With my three year freelance-versary coming up this weekend, I've been thinking how happy I am that I can jet off at the drop of a hat and yes, I have just got back from an epic group holiday but I'm already itching to plan another. Who wants to jump on a plane with me? Here are my tips for planning that ultimate group trip away to a dream luxury villa and keeping stress to a minimum.
Take the Little and Often Approach to Saving 
A villa overlooking the beach of Plai Laem with it's own infinity pool and gym isn't going to slot into my monthly budget. Sad but true. I recently read Sarah Knight's book Get Your Shit Together and one thing I learned was that anything is possible and that includes your dream trip. Some people simply say I can't afford it while others think how can I afford it.  It's simply a matter of making small steps towards your goals. Affording your dream trip may seem impossible right now with no savings to your name but what is stopping you from putting a few pounds aside per week? You won't be able to book it tomorrow and you might not be able to afford to spend £2000 on a holiday next month but that doesn't mean you can't afford £20-30 per week. Before you know it, you will be half way there to putting down a deposit.
Stay in the Airport Hotel on the Night Before 
If you have a long flight ahead, make it easy on yourself and check in to the airport hotel on the night before your trip. This way, when you have to get up at 5am, you are at the airport in minutes and you don't have to suffer through a long commute.
Try Something New but Book a Transfer 
For many, the ultimate summer holiday means jetting off somewhere new, a bucket list destination for example. For me, I've always been intrigued by Thailand but I've always been put off by the super long flight. I love the idea of experiencing all that Ko Samui has to offer but hate the idea of arriving in Thailand with no idea where I'm going. Just me?
When travelling to places I've never been to before, I always book a transfer from the airport to make the post flight experience a stress free one. When you book a villa, transfers are usually included but this is something to check before you depart. Your holiday starts here and flapping around looking for transport to take you to your accomodation is less than relaxing.
Get Your Currency in Advance 
Little things like arriving in a country with money that you can actually spend will make your arrival much more pleasurable. If you want to make a pit stop on the way to your accomodation or you need to tip people, some local currency will come in handy.
Weigh your Bags 
Travelling further afield often means more luggage and with that usually comes excess fees. Weigh your case before you leave for the airport to avoid any hefty charges and start your trip on a good note.
Choose a Luxury Villa that has it all
For some, the ultimate summer holiday comes down to spending quality time with your nearest and dearest. Villa holidays aren't something I do very often but if you are travelling as a group, there really is nothing better as everything you need is at your fingertips. I stayed in a luxury villa years ago with friends and there is nothing nicer than eating together and relaxing together as a group without having to skip off to your own sepreate hotel room to get ready.
Not only do you get oodles of space but you get lots more privacy and you get to share the stunning view with a select few rather than hundreds of holidaymakers. There are some truly spectacular villas on offer boasting views with sea as far as the eye can see. Why would you choose a cramped hotel when you could have the ultimate luxury villa?
Have you ever tried a luxury villa holiday with friends or family? Where would you go on a group trip? Have you ever been to Thailand? Leave me a comment and let me know.
*This post was written in collaboration with Luxury Retreats.