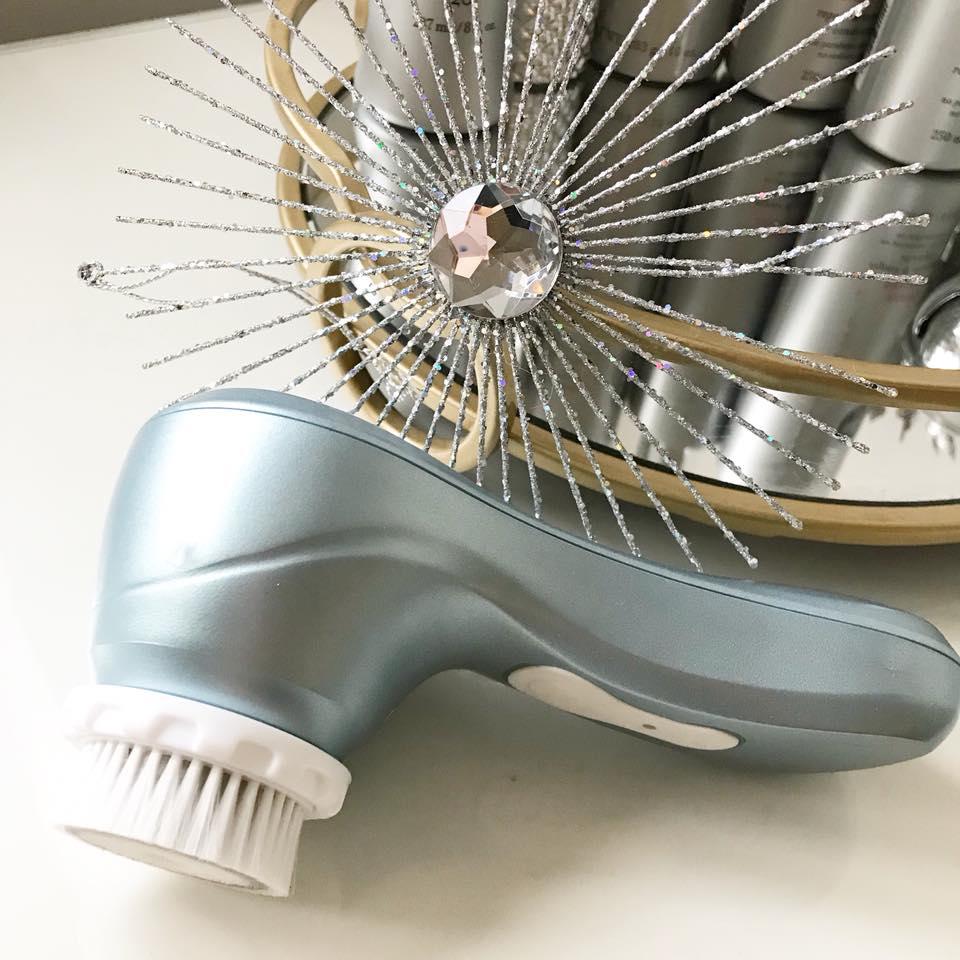 Hello lovely readers, I have a little beauty update for you today to break up the 19846 Christmas posts I have planned because I know that it has been getting a little gift guidey of late. So, today I'm really excited to tell you all about the Limited Edition Magnitone Barefaced cleansing brush. Read all the way to the end of this post to see how you could win your own Magnitone limited edition set! Magnitone have launched 2 limited edition colours, they kindly sent me the Serenity blue shade but there is also a rose gold shade that is stunning too. I've only had this cleansing device for a week so this is more of a first impressions post rather than a full review and I'll be telling you about the new cleansing balm that I've been trialling. So. Much. Newness.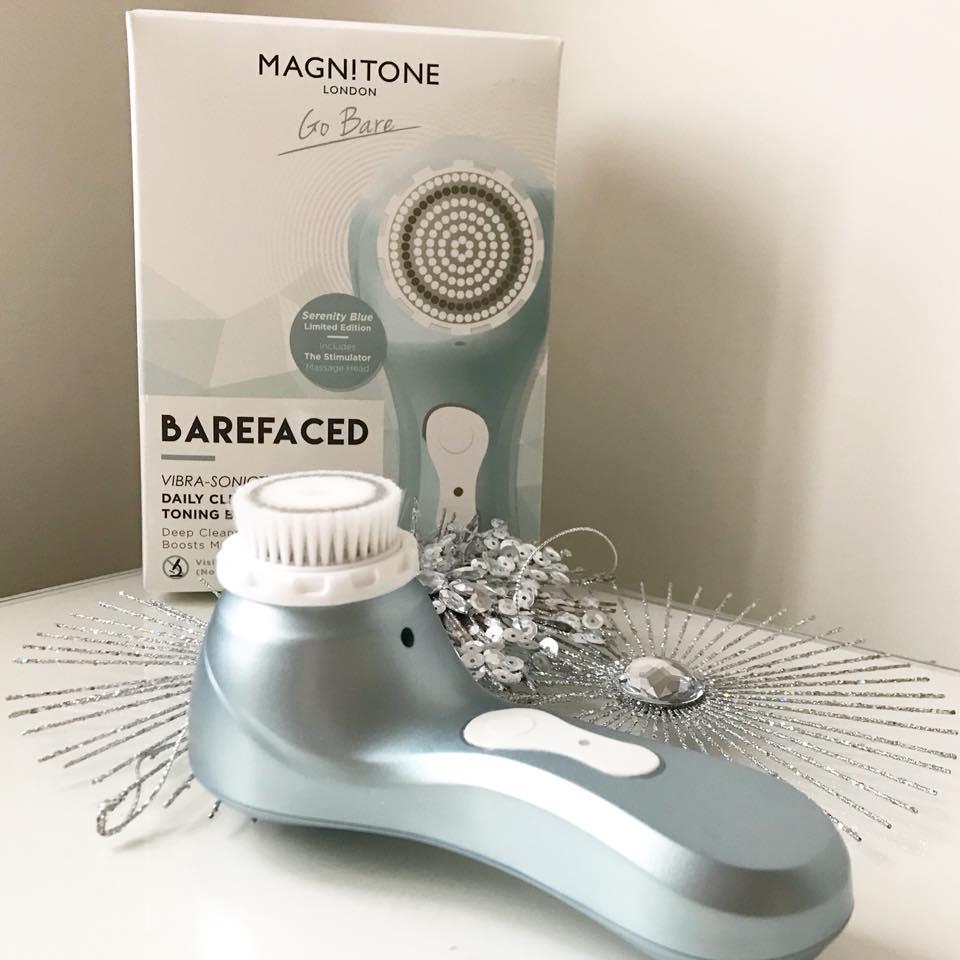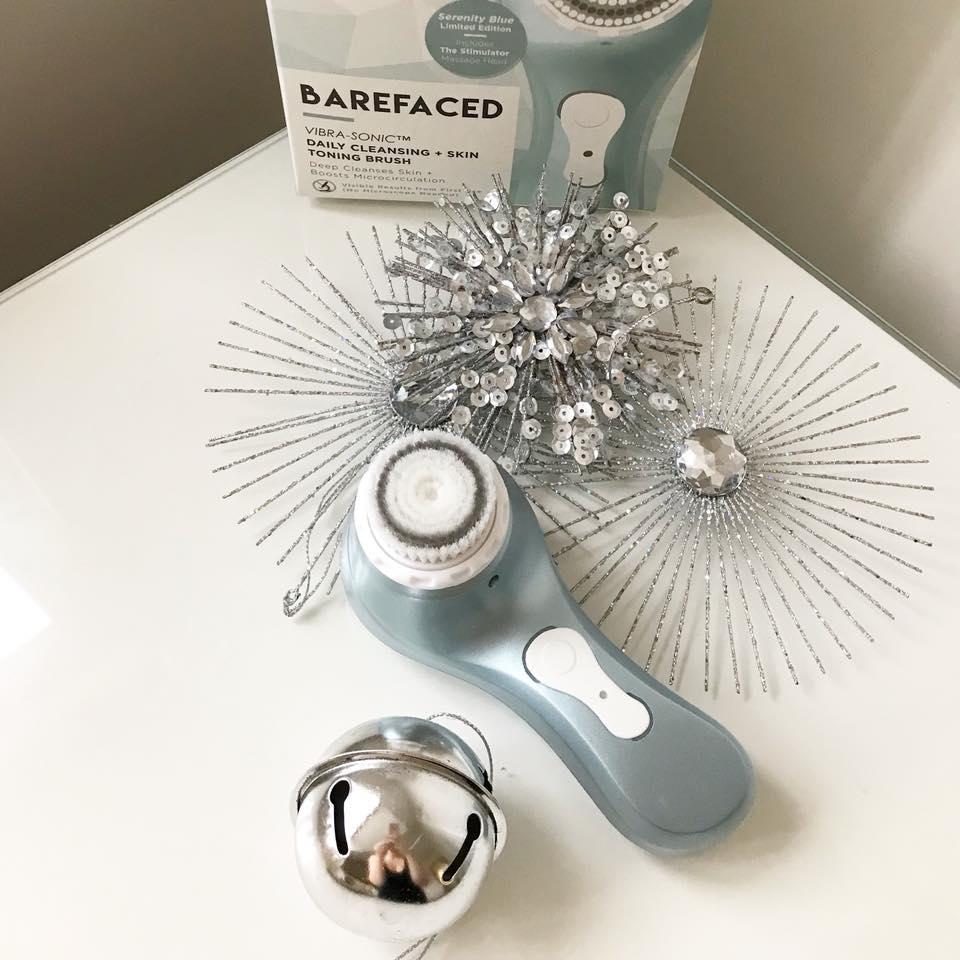 I've been a little lazy in the skincare department lately. Scrap that, I've neglected my cleansing routine completely. Mainly because I ran out of my all time fave Liz Earle cleanse and polish and I didn't get round to replacing it. There's nothing like shiny new products to get your beauty routine back on track and so when the Magnitone cleansing brush landed on my doorstep I quite frankly had no excuse.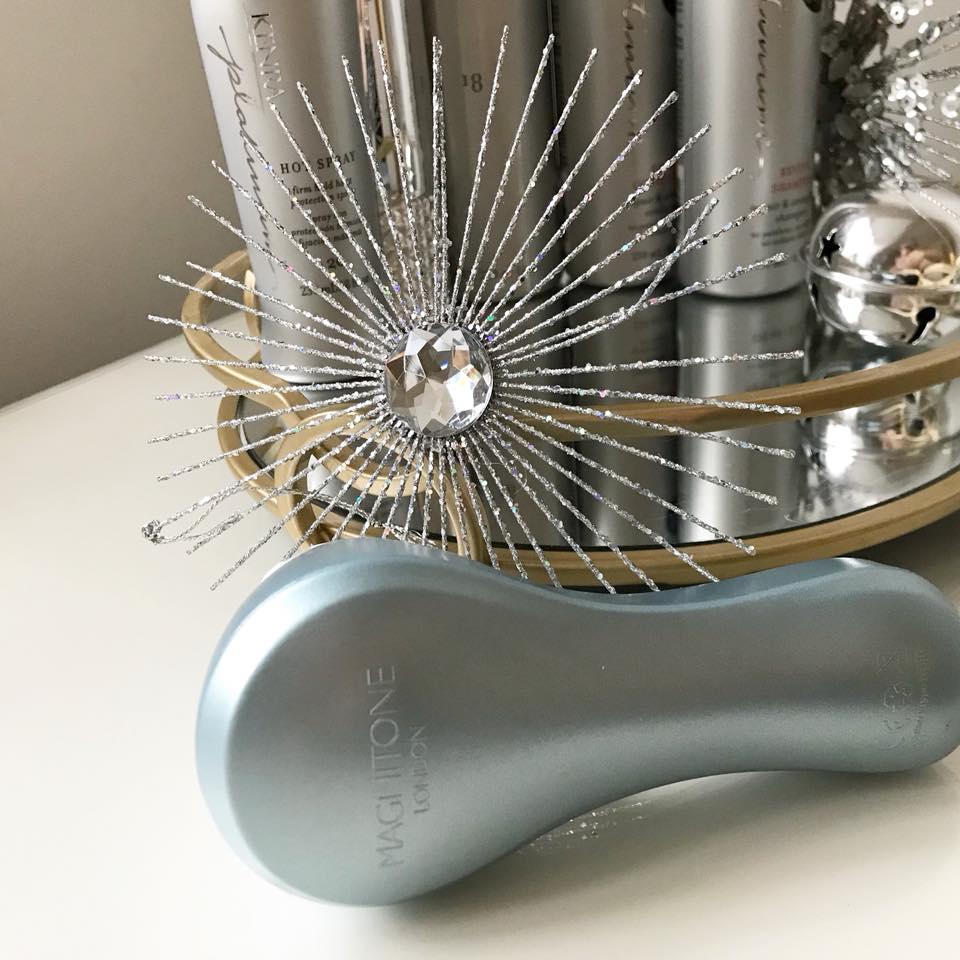 So, what comes in the box? There's the Vibra-Sonic cleansing brush that has two cleansing modes I might add, two brush heads (one active clean, one stimulator) a travel bag and a usb charger. I personally love that it has interchangeable brush heads and I'm on board with anything that has a toning mode.
I have real skin envy at the moment and I'm making a pledge to put more effort into getting that glow. I've been blessed with good skin, but since the temperatures have dropped, my skin has become a seasonal cliche. Dry patches around the chin, the odd spot here and there and oh so dull. I've used the Magnitone Barefaced brush a handful of times so far and I'm making a pact to use it religiously until Christmas so I can report back on the positive changes. My skin feels softer and I've noticed my makeup glides on and creates a smoother base. My favourite thing about it is that it's gentle while giving your skin a thorough cleanse. I was worried it would be a little too harsh for my skin but the bristles are soft but firm.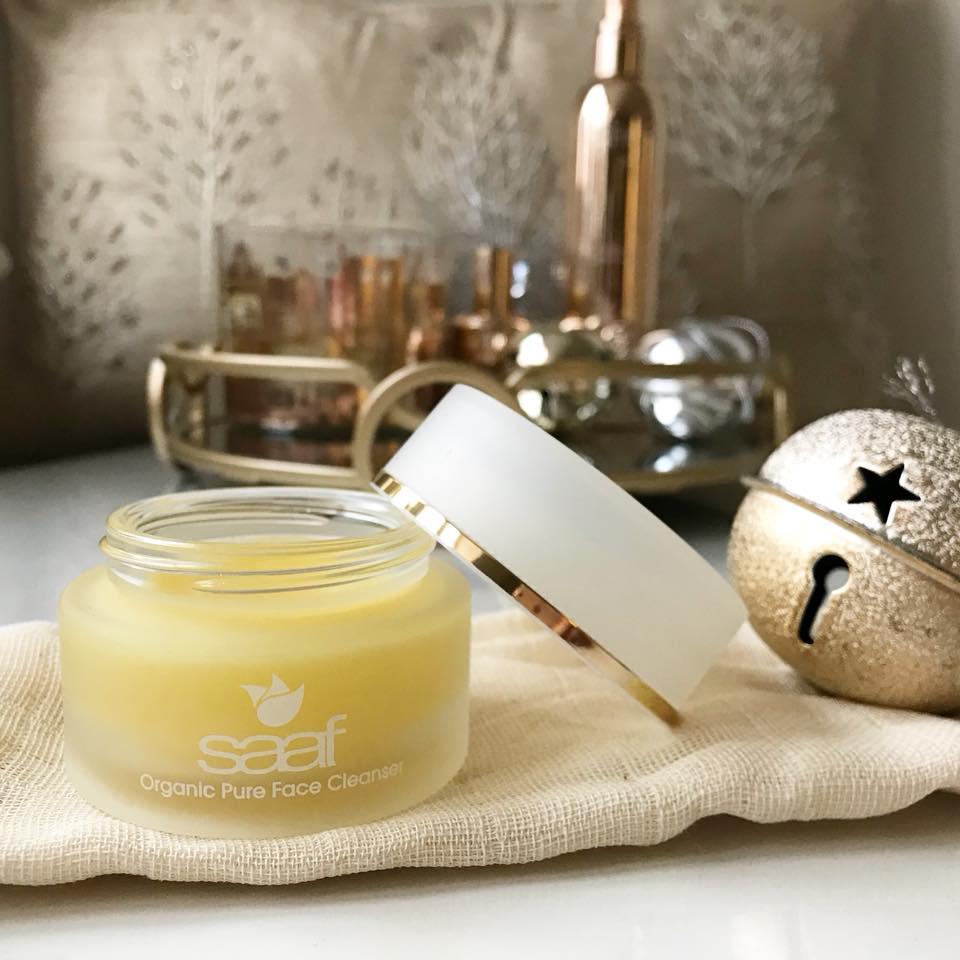 The best bit? (apart from the super shimmery design). It couldn't be simpler to use. No one needs a cleansing device that you need a degree in science to use. So what do I use it with? To be honest, it will work with any cleanser, but I was recently sent a super luxurious organic Pure Face Cleanser by Saaf. I've never heard of Saaf skincare before so I was intrigued to try it. It has a balmy texture which I love and it contains shea butter so it glides on and leaves your skin feeling super smooth. This is one of those cleansers that comes with a rough Turkish cloth to remove it but if you've ever tried the Liz Earle cleanser, constantly washing and drying cloths can become quite annoying over time but this is where you reap the benefits of a cleansing brush. It's a great alternative to a cloth and much more effective at polishing and smoothing.
I loved so many things about this cleanser. Firstly it smells amazing and reminds me of the products you find when you visit a beauty salon or a spa. It must be something to do with the essential oils. The luxurious nature of the balm makes this product feel like a real treat for the skin and it's great if you want a product that really pampers your skin rather then a foaming cleanser that you would lather and wash off in a couple of seconds in the shower. Oh and Saaf get extra points for being cruelty free. *applauds*
Overall, I'm impressed with this new addition to my beauty collection and I love that's it's compact enough to throw in your travel bag when you go away. Altogether a useful little device.
*PERFECT GIFT ALERT* The Magnitone Barefaced Shimmer collection retails at £89.99 but you can get 44% off on the run up to Christmas on the rose gold HERE and the Serenity Blue HERE. Pop it under the tree for your BFF blogger, sister, niece, daughter, mum, mother in law or the man in your life  whose beauty routine puts yours to shame.
Have you tried the limited edition Magnitone BareFaced Shimmer brush? Enter my Twitter GIVEAWAY here!