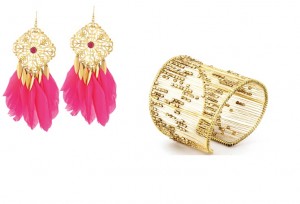 Hello lovely readers! Yes, it's July and yes we are still waiting to swap our wellies for wedges but there is a silver lining to this black cloud that is currently hanging over our heads. I have a little surprise that might just put a smile on your face.
I have teamed up with the lovely Sarah from Celliana to give away some fabulous festival inspired jewellery. If you haven't heard of Celliana,  it's my new obsession and it's a pretty fabulous store where you can find sparkly costume jewellery that won't cost a fortune.
To win the stunning feather earrings and gold beaded cuff simply follow Celliana on Twitter and Like Remie's Luxury Blog and Celliana on Facebook. The winner will be chosen on the 17th July.
Good Luck Ladies!